15th January 2019 marked twenty years since my first poetry gig. I've been building up to the anniversary for a few months now, spending my evenings alone with the dozens of box files of stuff I've collected over the years: flyers, newspaper articles, lanyards, photos. It was been emotional, neither happy nor sad, but just sort of full on. On the one hand it's been a genuine joy to send snaps of embarrassing photos or flyers to my old Aisle16 comrades, or other friends who were with me at certain landmark gigs; on the other hand it felt strangely lonely to be the only common denominator in all these memories, a reminder that our lives are solitary no matter how social we are. I've put all the stuff into a scrapbook (well, tbh, I'm still sticking – it's a long project) but that's just for me, for the world I have something else…
I'm delighted to announce the release of TWENTY – a new album of my very best stuff. Don't worry, I haven't re-recored any of my awful teenage shit because I'm feeling all nostalgic, that stuff is best lost to time. In fact, over half the record is brand new since my last album in 2015. By the way, I'm not using 'record' figuratively – TWENTY is out on vinyl as well as download! Just look at the state of that …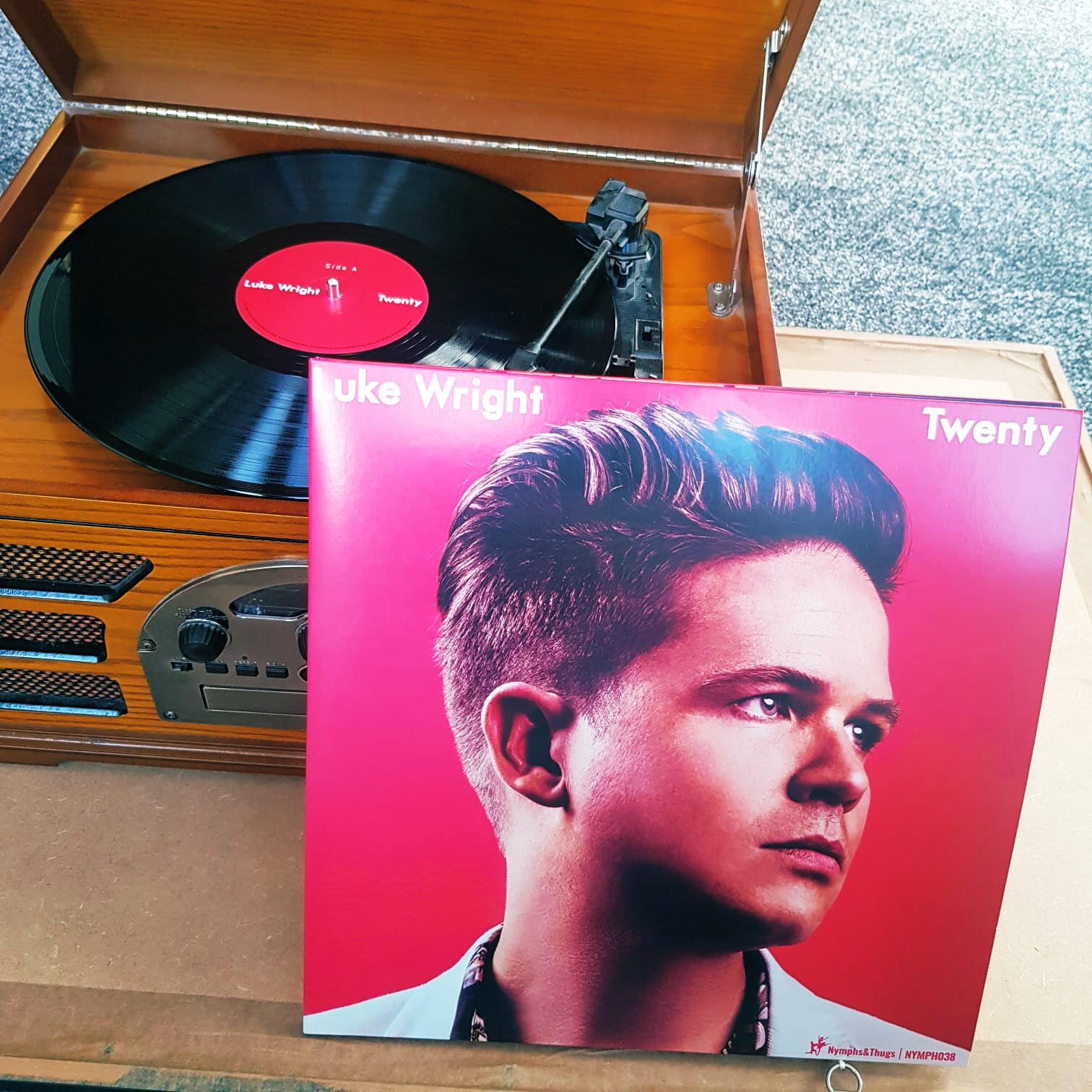 TWENTY is out on the Nymphs & Thugs label, a dedicated spoken word label run by poet Matt Abbott. N&T put out albums by my pals Salena Godden and Toria Garbutt and I've been really impressed by Matt's professionalism and dedication, not to mention his eye for a good looking record sleeve. Someone asked me the other day if I was nymph or a thug. I'm obvs both.
TWENTY is not all spoken word, three of the poems are backed with piano by Polly Wright, otherwise known as The Tiger's Bride. Three of my poems are included as songs, with spoken verses by me and sung choruses by Lora Stimson. Below is a full track listing plus credits. You can PRE-ORDER the album here. Or READ MORE here.
Side A
O England Heal My Hackneyed Heart – 1.54
The Ballad of Edward Dando – 5.08
IDS – 1.28
Essex Lion – 2.38
One Trick Bishop – 2.11
Pontardawe – 1.39
A12 – 1.16
Battle – 3.12
Side B
Prayer – 2.36
Kelvedon to Liverpool Street – 2.11
William Hague in a Baseball Cap – 2.15
The Rack – 2.37
Pub Gig in the Middle of Nowhere – 2.09
Lullaby – 2.30
The Chains – 3.16
Side C
Sue's Fourteener – 4.05
The Toll – 4.47
The Ballad of Chris & Ann's Fish Bar – 7.38
Side D
Embrace The Wank – 3.11
Burt Up Pub – 2.47
The Ballad of the Dog – 4.21
Dad Reins – 0.49
Houses That Used To Be Boozers – 3.15
The Lay-Bys and Bypasses – 4.32
Written & performed by Luke Wright.
Piano on O England Heal My Hackneyed Heart; Prayer; The Lay-Bys and Bypasses – composed and played by Polly Wright.
Vocal on Battle; The Chains; Houses That Used To Be Boozers by Lora Stimson.
Committed to tape by Alex Banks at Drill Hall Studios, Beccles.
Photography by Idil Sukan.
Thanks to Aidan, Sam, Rosy, Olive, John, Mum & Dad.
Dedicated to my first poetry comrade – RGS.