Books / Albums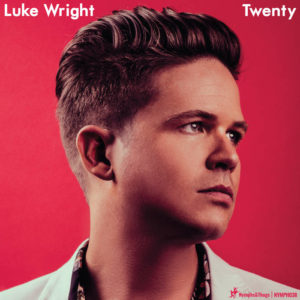 Twenty
On 15 January 1999, Luke Wright performed poetry on stage for the first time. 20 years later, he is one of the most formidable acts on the UK's flourishing spoken word scene. This album is a best-of to celebrate his outstanding anniversary.
All poems written and performed by Luke Wright. Piano on 'O England Heal My Hackneyed Heart', 'Prayer' and 'The Lay-Bys and Bypasses' composed and played by Polly Wright. Vocal on 'Battle', 'The Chains' and 'Houses That Used To Be Boozers' by Lora Stimson. Committed to tape by Alex Bands at Drill Hall Studios, Beccles. Photography by Idil Sukan. Design by Mark Coverdale.
Twenty
2019, Nymphs & Thugs
73mins | £20 vinyl, £10 download

Buy a copy from Nymphs & Thugs
---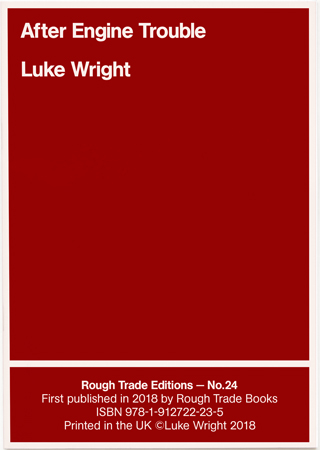 After Engine Trouble
Rough Trade Editions #24
With one eye on social media and another on mental well-being, Luke Wright looks under the hood of a spluttering nation. Eschewing the formal verse structures of his previous two collections, Wright presents free-wheeling splenetic poems on the joys of pretentiousness, late-night carb-heavy FOMO, and the lay-bys and bypasses of a country that 'doesn't make anything anymore.' Shout these poems aloud in pubs, or whisper them in B&Bs. Keep an eye on the ones you love.
WINNER Best Pamphlet, Saboteur Awards, 2019
After Engine Trouble
2018, Rough Trade Books
32pp | £7.99

---
We all want something to believe in. It's 1987 and Frankie Vah gorges on love, radical politics and skuzzy indie stardom.
Following the multi-award-winning What I Learned from Johnny Bevan, celebrated poet Luke Wright's second verse play deals with loss, love and belief against a backdrop of beer-soaked music venues and 80s politics.
Frankie Vah
2018, Penned in the Margins
64pp | £9.99
ISBN:9781908058584
Buy a copy from Penned in the Margins
Reviews
"With Frankie Vah, he's managed to craft a gorgeously-worded powerhouse of a play, in one of the only verse dramas that could claim to get a crowd cheering and stamping their feet throughout. Again." ★★★★★ Broadway Baby
"This is a mature, lyrical and politically relevant piece of poetic writing … beautifully performed…  I watched and listened in awe and pleasure, just drinking, drinking, drinking in the beauty of this show." ★★★★★ Exeunt
"This isn't just socialist agit-prop, though; it reaches far further than that. In his visceral, virile verse, Wright skewers the essential cadences of all political drama" ★★★★ The Stage
---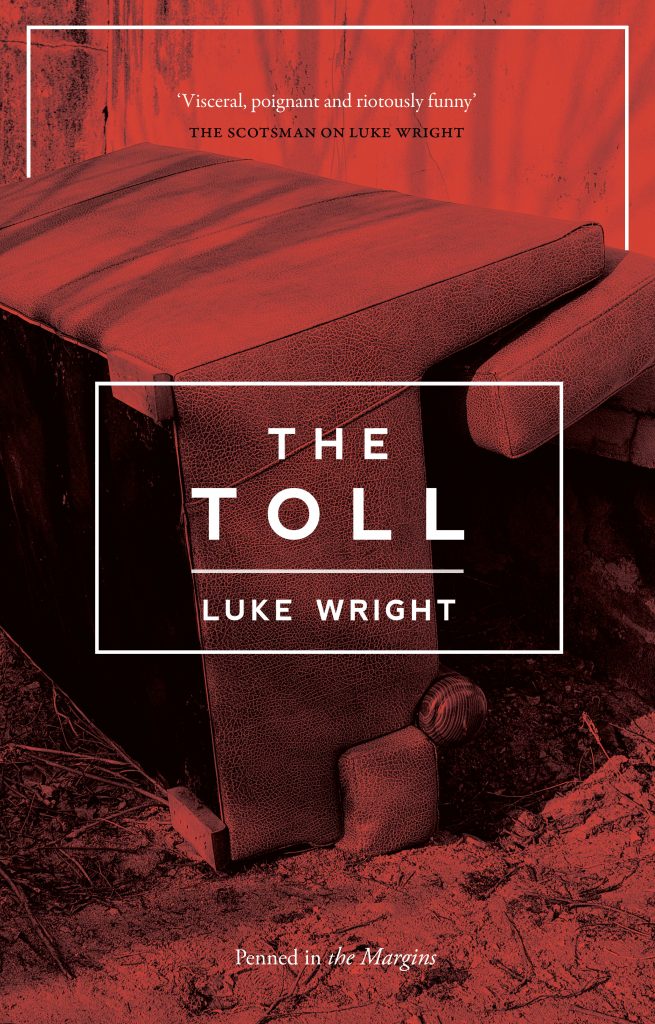 The Toll
An escaped lion roams the streets of Essex; a lonely pensioner holds a tower block fête; and the silent majority takes to the streets.
Travel the unfashionable A-roads and commuter lines of England — 'where industry meets marsh' — with poet Luke Wright. Discover a country riven by inequality and corruption but sustained by a surreal, gallows humour.
The Toll combines the elegaic with the anarchic, placing uproarious satire cheek-by-jowl with wild experiments in form and touching poems of parenthood. In lines perfected on roads, stages and radio shows across the country, Luke Wright captures the strain of austerity Britain, speaking truth to power and registering the toll it takes on us all.
The Toll
2017, Penned in the Margins
100pp | £9.99
ISBN:9781908058423
Buy a copy from Penned in the Margins
Reviews
Sharp, gritty and warm by turns … an overview of the mingled corruptions, humour and blessings of living in … modern Britain. – The Skinny
Life in today's Britain takes its toll on so many, including the characters in the poems, and no contemporary poet understands or conveys that better than Wright. – Jacqueline Saphra, The Poetry School
The Toll is a rich collection that is diversely peppered with the comedic and the moving. A master of sound, [Wright] invokes the traditional poetry canon and places it with the decidedly modern reflections of the state of England in 2017. – Chloe Vaughan, The Manchester Review
---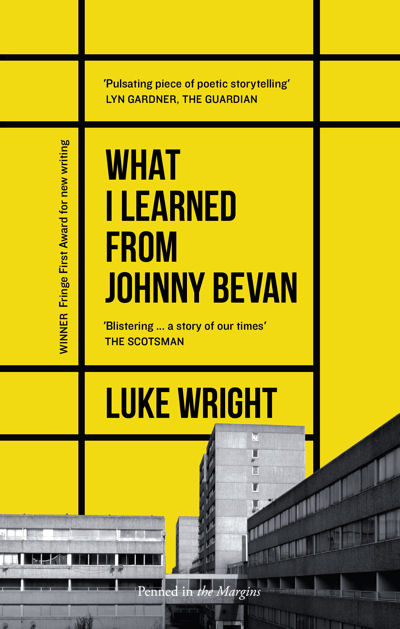 What I Learned From Johnny Bevan
What I Learned From Johnny Bevan is a politically charged modern epic by celebrated poet Luke Wright. Written in electrifying verse, this is a story of friendship, class ceilings and the battle for the soul of the Left.
At university the mercurial Johnny Bevan saves Nick, smashing his comfortable middle class bubble and firing him up about politics, music and books. Twenty years later, as their youthful dreams disintegrate alongside the social justice they hoped for, can Nick, now a jaded music journalist, save Johnny from himself?
Winner of a prestigious Fringe First Award, What I Learned from Johnny strikes at the heart of a divided Britain with wit, compassion and laser precision.
What I Learned From Johnny Bevan
2016, Penned in the Margins
64pp | £9.99
ISBN:978-1-908058-33-1
Buy a copy from Penned in the Margins
---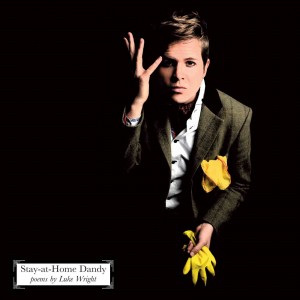 Stay-at-Home Dandy
Decadent boozehound Luke Wright would love to spend his life flouncing around looking fabulous, but back in rural Suffolk he's got the school run to do. Naval-gazing is all very well, but other people can be magic.
Wright's 4th spoken word album celebrates ordinary people having extraordinary moments, then sticks a "champagne-rinsed rococo boot" into the swines who run things.
Meet the cane-swinging, merlot-glugging "Bastard of Bungay;" spend half-term with lonely science teacher Mr Hooper; and cry "NOT IN MY NAME" with the irate villagers of Much Harpingon.There are also quieter more personal moments: Wright's commute to work with his worn-out father and a touching sonnet to his son taking his first "staccato wobbles" up the road.
Stay-at-Home Dandy
2014, Nasty Little Press
40 mins | £10
---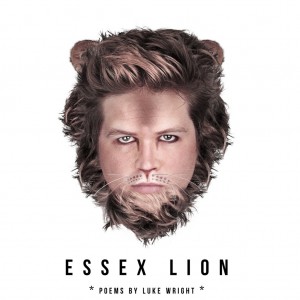 Essex Lion
Luke Wright's third spoken word album is a darker affair than 2012′s We're All In This Together. There's a visceral retelling of the Raoul Moat manhunt, a brutal suicide on a dodgy estate, and a sweetly sad ballad about Sue, an old lady pinning her hopes on an increasingly cruel world.
But panic not, there's plenty of Wright's trademark humour and inventive rhyming. The title track (in two parts) is a frenetic take on the (non) sighting of the Essex Lion, told in rollicking Essex vernacular. Couple this with a scathing attack on UKIP's Nigel Farage and a satire on cosy middle class foibles in Posh Plumber and you have a sparkling hour of wit and horror that you'll listen to again and again.
Essex Lion
2013, Nasty Little Press
63 mins | £10
---
Mondeo Man
Explosive political satire and acerbic wit leap from stage to page in Mondeo Man – the hotly anticipated debut collection from Luke Wright. Yummy mummies and debauched Tory grandees mingle with drunk Essex commuters and leering tabloid paps; a small town chip-shop becomes the site of a heart-wrenching story of failed marriage; and a televised manhunt enthrals an entire nation.
Mondeo Man
2013, Penned in the Margins
96pp | £9.99
ISBN: 978-1-908058-09-6
Buy a copy from Penned in the Margins
Reviews
"If any contemporary collection is going to convince the unbeliever that poetry can be a riot of cheek, giggles, boobs, tears and Facebook – while keeping its artistic integrity firmly intact – Mondeo Man is it.' ☆☆☆☆☆ Huffington Post
"Although Wright's sprightly verse drips with cynical disdain for Tories, outraged tabloidese and the weekend excesses of a feckless working-class, there's a rich strain of empathy coursing through his work. More Crappy Albion than Broken Britain." ☆☆☆☆ The List
"Mondeo Man brims with punchy, gritty parodies of modern British society; the sort of gesture that could be a wave, but may just be two fingers […] rude, rabid and relentlessly rhythmic." The Cambridge Student
"Mondeo Man takes pleasure in revealing our own world and our own lives to us. In particular it enjoys highlighting the stilted forms of normality that we didn't realise we had accepted, while at the same time pointing out to us the weirdness and wonderfulness of that normality. Like the everyday episodes they depict, [these poems] are subtly profound without announcing their complexity. In a very short time, given its cultural specificity, this collection will be a fascinating historical document." Tess Somervell, Tower Poetry
"[Mondeo Man is] not only verbally substantial, skilful and very funny but also complex in its feeling. It is Luke-laddish wit but laced with some fellow-feeling for its subjects, and self-irony. It is not drunk on itself, loves words and verbal patterns, and is set in an important public sphere that it observes in depth. It knows what it's talking about." George Szirtes
"Luke is a craftsman with a big heart. [Mondeo Man is] an excellent book." Ian McMillan
---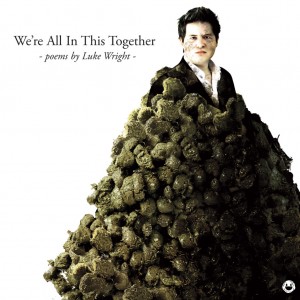 We're All In This Together
We're All In This Together is bawdy, funny and also, at times, rather touching and sad, displaying Wright's ability to take a stereotyped character and find the humanity in them.
Opener The Drunk Train promises this album will "peer behind Britannia's grin and shake her towns like money tins" and the following poems do exactly that, taking in fat bullies, posh school boys obsessed with "drawing willies on their toys," baby-boomers hell-bent on spending their kids' inheritance and a B Movie set in Brentwood.
We're All In This Together
2012, Nasty Little Press
66mins | £8
---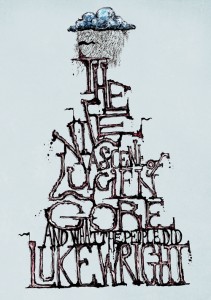 The Vile Ascent Of Lucien Gore And What The People Did
In a fug of voter apathy Britain votes in Lucien Gore, the new media-friendly face of 'caring Conservatism.' Despite rallying cries about human rights and the environment, Gore's real agenda is massive and lasting cuts to the welfare state. Cheered on by the right-wing tabloids the Tories implement changes that pick away at the fabric of British life. The people now have a choice …
The Vile Ascent of Lucien Gore… is Luke's most ambitious work to date. In this long poem, written in ottava rima, Wright paints a grotesque that reflects what is happening to Britain today under the Tories, and offers an extreme solution.
The Vile Ascent Of Lucien Gore
And What The People Did
2011, Nasty Little Press
19pp | £5
ISBN: 978-0-9563767-6-3
Currently out of print.
.
.
---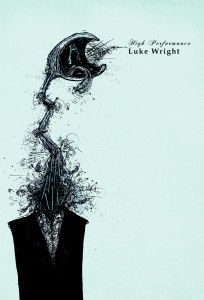 High Performance
Although he has performed his stand-up poetry up and down the country for the last decade, High Performance is the debut pamphlet from Wright, mainly because he is dyslexic and can't spell. With the assistance of Nasty Little Press, Wright's acerbic wit and high-energy performance makes the translation to the page, revealing the formal discipline underpinning much of his verse.
Fans of Luke's live work will recognise favourites such as A Poet's Work Is Never Done and Luke's Got A Joke, as well as new work tackling a wide range of subjects from the witty to the profound.
High Performance
2009, Nasty Little Press
32pp | £5
ISBN: 978-0-9563767-0-1
Currently out of print.
Press quotes for High Performance:
"By the time I'd finished the first page of High Performance I'd already laughed out loud twice, but as befits such humour there are moments of pathos too and plenty of self-disgust … When it comes to anticipating his detractors, Charlie Brooker with a hangover would be hard-pushed to out-bile him" Sophia Blackwell, Penpusher
"Wright is similar to Larkin: dealing with the banality of the world and the confusion of its changing; the inevitability of loss, of aging and decay; reappraising one's identity as a result; and occasionally coming up with some really great, funny lines." Will Carr, Hand + Star
"Luke Wright on the page is funny, pretty light on his feet, tells a good story, and can compass both wit and pathos. You can read the poems without actually having to have him read them for you." George Szirtes, Ink, Sweat & Tears
---
Who Writes This Crap?
co-authored with Joel Stickley
Do you ever wonder who's responsible for the rubbish that you read every day? In Who Writes this Crap, Stickley and Wright take the most ridiculous examples of junk mail, packaging, emails and advertising and rewrite them in side-splitting new ways. Whether it's a smoothie label, a newspaper headline or an unsolicited email from a Nigerian prince, this fun and irreverent satire will change the way you read forever.
Who Writes This Crap? by Joel Stickley & Luke Wright
2007, Penguin
256pp | £8.99
ISBN: 978-0-1410305-4-8
Press quotes for Who Writes This Crap?:
"An inspired piece of parody." The Guardian
"No piece of writing escapes the satirical re-invention of these two acclaimed performance poets. Great fun – LOL funny." The Big Issue
"Effortless satire – humour for everyone." ThreeWeeks
"Who Writes This Crap owes its superb strike-rate to the fatuity and vacuity of all the verbal junk it so accurately mimics. From fancy snack foods to corporate disclaimers, they leave no brand of modern toxic text unscorned." The Independent