Hello, I'm Luke Wright. I'm a poet and theatre-maker.
My new collection is THE FEEL-GOOD MOVIE OF THE YEAR.
Click the book cover to pre-order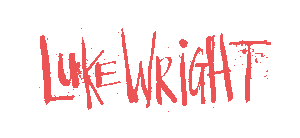 "A riot!"☆☆☆☆☆ Huffington Post
"Cool poems." Patti Smith
"Performance poetry's key revivalist." Metro
"He must be on some kind of dope." John Cooper Clarke
"His performances rumble with rage, passion and humour. You will leave his show brimming with energy, heart pounding and brain whirring." Guardian
The Remains of Logan Dankworth
Luke's new play debuted at Norwich Arts Centre on 13th November. It will now tour the UK in 2020.
Logan Dankworth, columnist and Twitter warrior, grew up romanticising the political turmoil of the 1980s. Now, as the EU Referendum looms he is determined to be in the fray of the biggest political battle for years.
Meanwhile, Logan's wife Megan wants to leave London to better raise their daughter. As tensions rise at home and across the nation, something is set to be lost forever.
The third of Luke Wright's trilogy of political verse plays looks at trust and privilege in the age of Brexit.
The Remains of Logan Dankworth
is also available as a book from Penned in the Margins