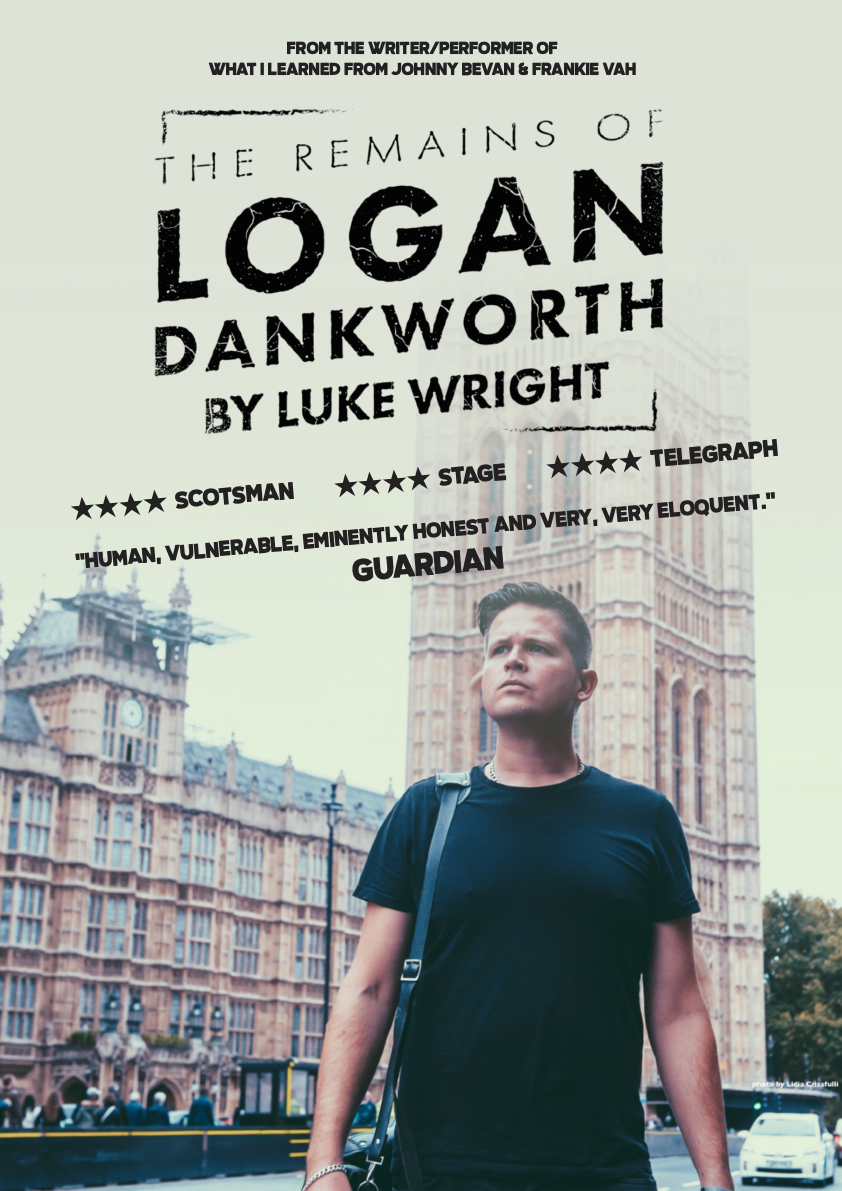 I believed that Fukayama line: the end of history. But History didn't end, did it?
Logan Dankworth, columnist and Twitter warrior, grew up romanticising the political turmoil of the 1980s. Now, as the EU Referendum looms he is determined to be in the fray of the biggest political battle for years. Meanwhile, Logan's wife Megan wants to leave London to better raise their daughter. As tensions rise at home and across the nation, something is set to be lost forever.
The third of Luke Wright's trilogy of political verse plays looks at trust, fatherhood and family in the age of Brexit. The show won The Saboteur Award for Best Show in 2020 and was a big hit with audiences and reviewers at the 2022 Edinburgh Fringe.
---
"Human, vulnerable, eminently honest and very, very eloquent…. Sensational writing" The Guardian
"Raw, rollicking first-person poetry…a hurtling, headlong hour of storytelling stuffed full of savage satire and astute observations, with the energy of Wright's delivery surging." ★★★★ The Stage
"Satirically gets the measure of our hysteria-wedded age… The language has a joyous alliterative swagger." ★★★★ The Telegraph
"A Superb hour of pointed and timely storytelling… extraordinary and eloquent." ★★★★ The Scotsman
"A very good writer and performer" ★★★★ British Theatre Guide
"Luke Wright is brilliant, so it's no surprise that this is a compelling, powerful play fusing intelligent writing with an engaging performance" ★★★★ ThreeWeeks
"A torrent of talented impersonation" ★★★★ OnThe Mic
"If you see anything this year's fringe, see this. I left the theatre stunned." ★★★★★ The Student
---
Written & Performed by Luke Wright
Directed by Alex Thorpe
Dramaturgy by Sarah Dickenson
Scored by Polly Wright
Lighting Design by Joe Price
Photos by Lidia Crisafulli
Running time: 1h
Age Recommendation: 14+
Co-commissioned by Norwich Arts Centre, National Centre for Writing, Colchester Arts Centre, Freedom Festival
Supported by Arts Council, England
---
Tour Dates 2023
12 January – Stahl Theatre, Oundle
19 January – Acorn Theatre, Penzance
20 January – The Old Library, Bodmin
26 January – Non Such Studios, Nottingham
8 February – Stamford Arts Centre, Stamford
9 February – Quay Theatre, Sudbury
10 February – Kino-Teatr, Hastings
15 February – Ventnor exchange, Ventnor
16 February – Ventnor exchange, Ventnor
23 February – Norwich Arts Centre, Norwich
3 March – Harrogate Theatre, Harrogate
4 March – Edge Arts Centre, Manchester
8 March – Pleasance, London
9 March – Pleasance, London
10 March – Pleasance, London
16 March – Yvonne Arnaud, Guildford
21 March – Imagine! Festival, Belfast
23 March – Pontardawe Arts Centre, Pontardawe
30 March – Selby Town Hall, Selby
31 March – Lyceum, Crewe
19 April – Wardrobe Theatre, Bristol
20 April – Wardrobe Theatre, Bristol
4 May – SJT, Scarborough
12 May – Theatre Shop, Clevedon
13 May – Mid Border Arts, Presteigne
14 May – Prince Albert, Stroud
28 May – Wolsey, Ipswich
11 June – EA Festival, Castle Hedingham
28 June – Lighthouse, Poole
29 June – Komedia, Brighton
7 July – Fisher Theatre, Bungay
14 July – Two Sisters, Felixstowe
28 July – Holt Festival
Past Dates 
2020
23rd January – Tom Thumb Theatre, Margate
24th January – Tolmen Centre, Constantine
30th January – The Pound, Corsham
7th February – Bridport Arts Centre
8th February – Jersey Arts Centre
22nd February – Faversham Literary Festival
6th March – Edge Arts Centre, Manchester
7th March – Chesterfield Labour Club
8th March – Stanza Poetry Festival
13th March – Diss Corn Hall
14th March – Youth Club, Framlingham
** LOCKDOWN MISERY **
5th September – Freedom Festival, Hull (special online film streaming)
18th September – Lawrence Batley Theatre, Huddersfield
23rd October – Norwich Arts Centre
2021
24th July – Latitude Festival, Suffolk
25th July – Latitude Festival, Suffolk
9th September – Nottingham Playhouse
27th September – Junction, Cambridge
2nd October – Laugharne Weekend, Wales
13th October – Colchester Arts Centre
2022
24 April – INK Festival, The Cut, Halesworth
3 – 29 August – The Pleasance Theatre, Edinburgh