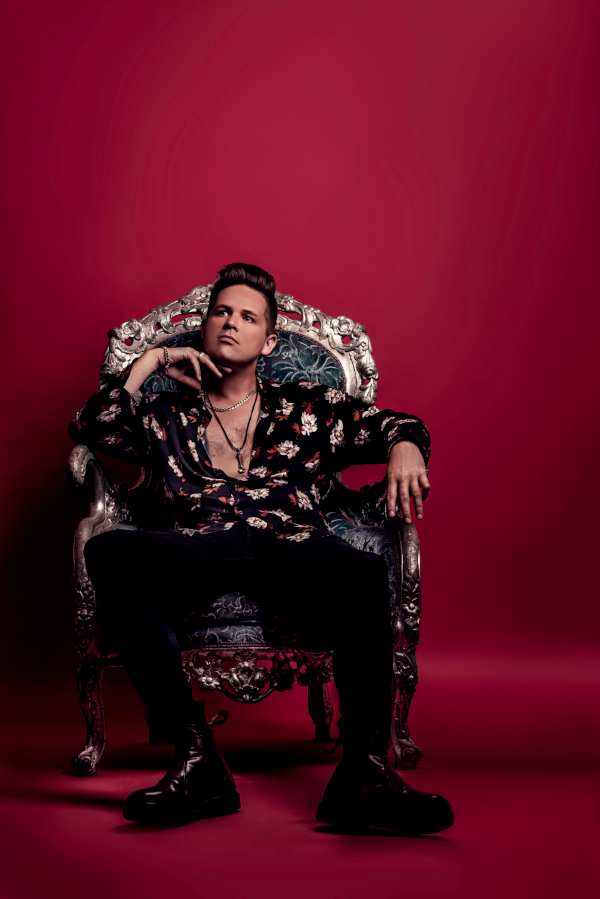 There was a collective gnashing of teeth and beating of breasts across the land when Wrighty didn't get the royal nod to take up the position of Poet Laureate this year. Still, he's an irrepressible sort of chap, so he's bought his own sherry and hit the road with a show the critics are calling his best yet.
Luke Wright is on a mission to write poems to unite a nation divided by austerity and Brexit. Can it be done? Can one poet ever really represent an entire nation?
Big-hearted and quick witted, Wright's poems have been lauded by everyone from Patti Smith to The Libertines. A Fringe First and Stage Award winner, Wright is truly a wordsmith and raconteur at the top of his game.
Written & performed by Luke Wright
Photos by Idil Sukan
Commissioned by The Inn Crowd
---
REVIEWS
"Poet Luke Wright doesn't mince his words. His performances rumble with rage, passion and humour. They are also peppered with brilliantly smart observations. You will leave his show brimming with energy, heart pounding and brain whirring." Guardian
"Fierce, wistful, romantic and witty by turns, this is a sensational hour of poetry." ★★★★★ The Stage
"a rich and complex body of work that reflects Britain and her people. Rich, poor, salt-of-the-earth or intellectual hipster, Wright dissects the ills of the nation whilst still demonstrating a great love for his homeland. He is nuanced, and performative, with all the skill of an actor embodying a character. Angry, immediate and brimming with passion, Wright is – indisputably – a poet for our time." The Play's The Thing
"He will tell it how it is but will not preach about mistakes, instead he will use his own self as an example. Those were the golden moments of this performance where one is hit with the truth yet can unwind and laugh at another persons relatable troubles in life." ★★★★ Theatre Weekly
"While there is pathos and sadness in some of his work the overall effect of an hour or two of Luke Wright is euphoric, his work is inspiring and uplifting even when he turns a mirror on the madness and division of Brexit Britain." Norwich Eye
"As Luke rants, roars and pours his heart out we are all touched and held tight by this lyrical tour de force." EDP
---
On Tour 2019
19th January Tolmen Centre, Constantine
8th February Tom Thumb Theatre, Margate
13th February Jersey Arts Centre
28th February New Wolsey, Ipswich
2nd March Corn Hall, Diss
9th March The Pound, Corsham
14th March Haverill Arts Centre
16th March FAYAP Youth and Arts Centre, Framlingham
21st March Ventnor Exchange, Isle of Wight
22nd March Edge Arts Centre, Manchester
23rd March The White Lion, Selling, Kent
30th March Norwich Playhouse
6th April Laugharne Weekender
10th-13th April Soho Theatre, London
14th April The Barrel, Banham
26th April The Rose & Crown, Pluckley, Kent
27th April Two Sisters Arts Centre, Felixstowe
4th May Stephen Joseph Theatre, Scarborough
23rd May Brighton Festival
31st May Acorn Theatre, Penzance
7th June St Peter's, Sudbury
14th June Theatre Shop, Clevedon
20th June Brewery Arts Centre, Kendal
25th June Marlowe Kit, Canterbury
3rd July The Starr Inn, Waldren
4th July Groundwork Gallery, King's Lynn
11th July Theatre Clywd, Mold
13th July The Chairhouse Presents…, Shrewsbury
14th July Wirral Festival of Firsts, The Wirral
16th July Create Ashford
23rd July Holt Festival, Holt
27th July Port Eliot Festival
31st August – Freedom Festival, Hull
21st September – The Cookie, Leicester
24th September – The Wardrobe Theatre, Bristol
4th October – The Barbican, Plymouth
5th October – Lincoln Performing Arts Centre, Lincoln
9th October – Birmingham Literature Festival, Midland Arts Centre
11th October – The Junction, Cambridge
14th October – The Bear Inn, Beyton
14th November – Pontadarwe Arts Centre
20th November – Colchester Arts Centre
25th November – Derby Poetry Festival
28th November – Chester Literature Festival, Storyhouse
29th November – Hardie's Bar, Merthyr Tydfil