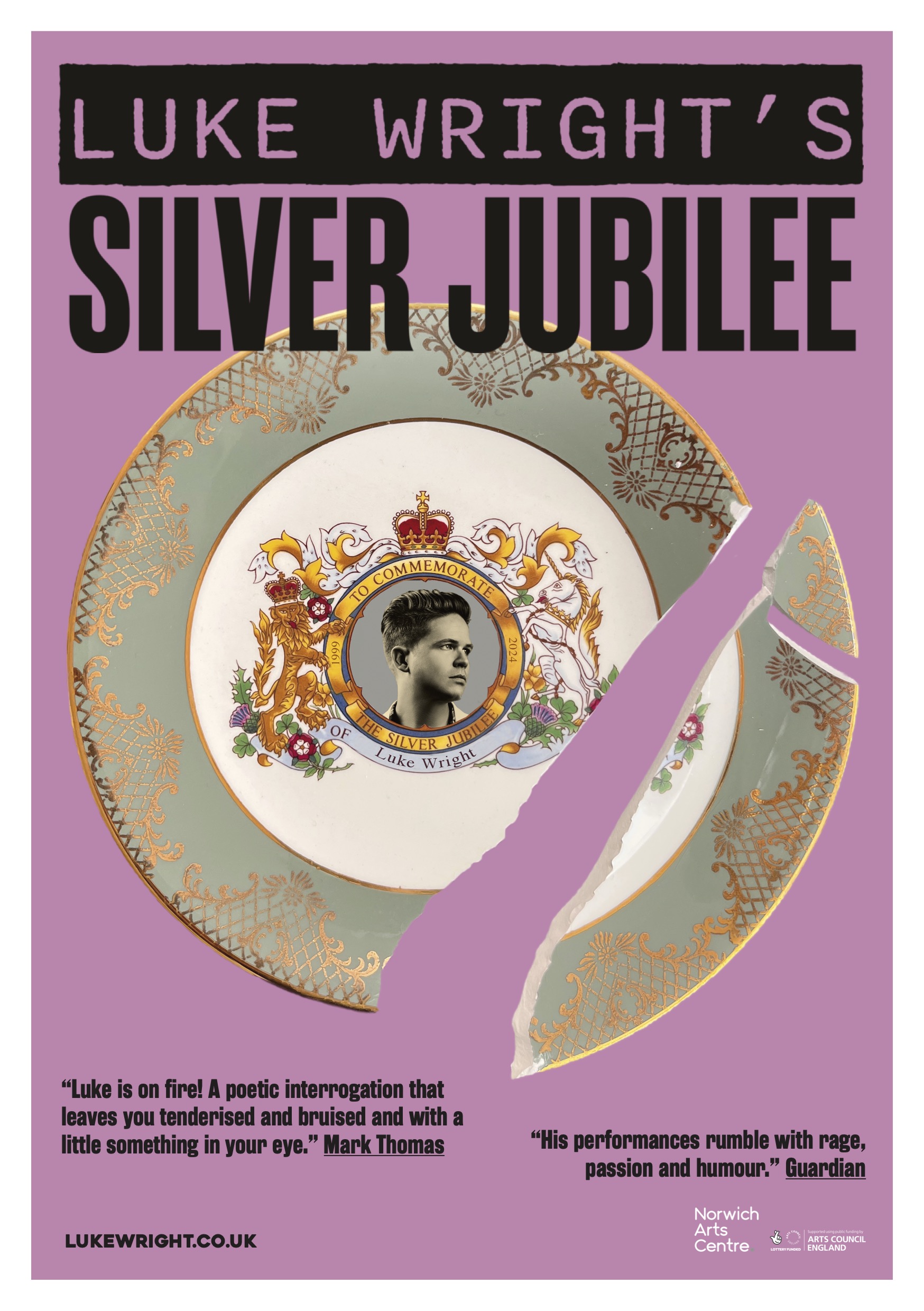 Luke Wright's Silver Jubilee

| | |
| --- | --- |
| | January 25, 2024 |
| | 7:30 pm |
| | Brighton |
| | Komedia |
Crack out the bunting! It's Luke Wright's Silver Jubilee. 
Over twenty-five years, Luke Wright has built up a reputation for being one of Britain's most popular live poets. He has won an unprecedented four Saboteur Awards (national awards for spoken word), a Stage Award, and a Fringe First. He's sold out shows across the world and regularly tours with John Cooper Clarke and The Libertines.
This show debuted to a packed arena at Latitude Festival before a sell out run at the Edinburgh Fringe where it was the toast of the critics.
"This is the best thing that poet Luke Wright has done, which is saying something." ★★★★★ The Telegraph
This year, thwarted in his attempts to hold a street party by the philistines on the council and unable to shift the over-ordered commemorative plates, Wright does what a poet does best, and takes a deep dive into himself. What follows is his most confessional show to date.
"Breathtaking … with a sharpness and wisdom that lifts the soul, and soothes the battered heart." ★★★★ The Scotsman
Wright was adopted as a baby and grew up believing that his adoption "wasn't a big thing." But one night he idly stumbled across his birth mother on Facebook. This window to a world that might have been his has thrown up deep questions about privilege, familial love, and destiny.
"Luke is on fire! A poetic interrogation of himself, who he is and where he is from that leaves you tenderised and bruised and with a little something in your eye." Mark Thomas
This show is an excavation of lives lived and not lived. Wright navigates his audience through a warm and honest hour of poems and stand-up with the directness and pathos that has made him one of the most popular live poets in England. With some wild experiments in form, a nervous kitten called Sir John Betjeman and a healthy smattering of drum n bass, Wright manages to navigate some heart-wrenching material and keep the laughs coming.
"A winning combination of honesty, humour, ire and wonder. He is at the peak of his powers." ★★★★★ The Stage
"The best exploration of love, family and belonging I have ever had the pleasure of seeing." ★★★★★ The Student
"On the basis of the stellar quality of this show – here's to another twenty-five." ★★★★★ The Wee Review
"Britain's finest performance poet." ★★★★★ Life As Theatre 
"Wright is entrenched in the sound and feel of words, a love he leans into with a mix of boisterous energy, and gentle pathos" ★★★★ The QR
"Luke Wright is a gifted performer, a talented poet and a definite favourite of ours. Treat yourself to an hour in his company." ★★★★ Darkchat
The Stage "best 15 shows of the fringe"
The Telegraph "best 13 shows of the fringe"
The Crush Bar "top ten shows of the fringe"
Written & performed by Luke Wright
Supported by Norwich Arts Centre and Arts Council, England