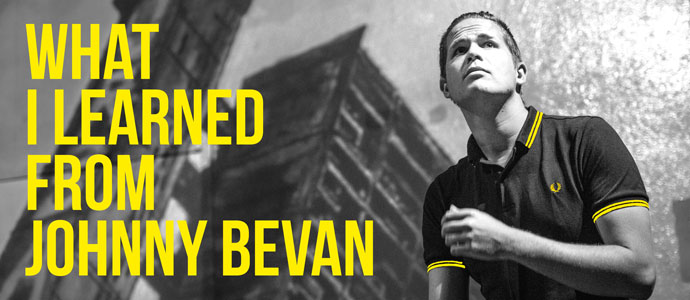 WINNER Fringe First Award for new writing
WINNER The Stage Award for acting excellence
WINNER Best Spoken Word Show Saboteur Awards 2016
WINNER Best Show Laugharne Weekend 2016
WINNER Dark Chat Awards for Best Entertainment 2015
NOMINATED Off West End TBC Award
Sold Out run at The Soho Theatre, Spring 2016
A story of shattered friendship, class ceilings, and the hollow reality of the New Labour dream.
At university the whip-smart, mercurial Johnny Bevan saves Nick, smashing his comfortable, middle class bubble and firing him up about politics, music and literature. Twenty years later, as their youthful dreams disintegrate with the social justice they hoped for, can Nick save Johnny from himself?
Luke Wright delivers a multi award winning hurricane of a performance. With humour and humanity he takes British politics head on, challenging the rise of New Labour and David Cameron, and the abandonment of those left behind.
Directed by Joe Murphy
Scored by Ian Catskilkin (Art Brut)
"Pulsating piece of poetic storytelling" ★★★★ Lyn Gardner, Guardian
"Blistering … a story of our times … a strikingly assured performance of a compelling piece of writing." ★★★★ Scotsman
"This is such a rich piece of writing… resonant and timely." ★★★★★ Exeunt
Co-commissioned by Norwich Arts Centre and Writers' Centre Norwich.
Johnny Bevan returns! 7 shows at The Underbelly, Edinburgh, 21-27 August. Tickets here!
Reviews from London run/ tour Spring 2016
'Luke Wright's What I Learned from Johnny Bevan is terrific' Lyn Gardner, Guardian
'Luke Wright gave a capacity audience at Norwich Arts Centre a show of unmatched passion, power and poignancy in the outstanding performance of the 2016 N&N Festival. 'What I Learned From Johnny Bevan' is fast paced, articulate, heartwarming and perfect in execution.' Norwich Spy
'He used poetry that spat, and a face that seemed to age with the despair of the characters in his story.'★★★★★ Brighton Argus
'Wright has a proper power over the English language, a storyteller worth listening to, and I look forward to hearing more' Tim Auld (for Daily Telegraph)
'evocative, poetic monologue about personal and political awakening (that) manages to evoke the chaotic passion' Time Out Critics Choice
'an impassioned, spellbinding performance infused with humour, humanity and wit' ★★★★ The Reviews Hub
'a brilliant show, with a charming performance from Wright' A Younger Theatre
'Really does convey the power of performance poetry, and focused political satire' Write Out Loud
'Wright performs with relentless vigour, his poetry pops and fizzes. a singularly powerful piece' ★★★★ Everything Theatre
'An astonishing, thought-provoking and original tour-de-force' ★★★★★ London Theatre1
'poet Luke Wright is a singular tour de force (his) language is precise and evocative and What I Learned From Johnny Bevan is politically charged and practically flawless' The Play's The Thing
'A rollercoaster ride of political poetry & sensational storytelling. Is he the new Berkoff?' Terri Paddock (founder, What's On Stage)
'Wright channels his characters with precision and ease (a) fast paced political tale of happy youth and wasted adulthood' Theatre Bubble
'dramatic, humorous, and political' This Week In London
'something rather special, Luke Wright's performance (10/10) was stunning' ★★★★★★★★★★Virtual Festivals (from Kendal gig)
Reviews from Edinburgh Fringe 2015 …
"Pulsating, neatly handled piece of poetic storytelling … the breakneck storytelling is clear and gives Wright's seething, dynamic poetry the room it needs to motor." ★★★★ Lyn Gardner, GUARDIAN
"a strikingly assured performance of a compelling piece of writing." ★★★★ SCOTSMAN
"This is such a rich piece of writing. There's so much in it. It's resonant and timely and it tells a story compellingly. And the story tells is kind of flooring, raw … It says so much about idealism and youth and maturity and compromise – and love – and the places life can take you, the incremental sneaky way that years have, of passing." ★★★★★ EXEUNT
Performed in verse that bounds and soars effortlessly … Taking in issues of class, privilege and the death of Labour, What I Learned from Johnny Bevan is a compelling and relatable exploration of growing up and facing hard truths." ★★★★★ THE SKINNY
"Luke is like a male Kate Tempest, but perhaps more sharply incisive and piercing. The venue is far too small. Get this guy a gig at Usher Hall!" ★★★★★ SCOTSGAY
"A densely-packed and deftly-woven banner for young Britain's political reawakening, What I Learned from Johnny Bevan is what I come to the Fringe for: writing that not only captures you in the theatre but also stays with you for days afterwards." ★★★★★ BROADWAY BABY
"Wright's full-throated reverie is spellbinding" ★★★★ DAILY RECORD
"Anyone familiar with Wright's work will recognise his deft hand in showing the complexities of male relationships …  a political and personal coming-of-age narrative that, while rarely breaking out of a set rhythm and rhyme scheme, still manages to evoke the chaotic passion of awakening." ★★★★ TIMEOUT Critic's Choice
"An impassioned, elegant performance, full of humour, sadness and political fury." ★★★★ LIST
"I see a show like this that makes me think theatre can't get any better, so why should I bother going to see anything else? … This is a simple story that is powerfully written and mesmerisingly performed – I cannot recommend it highly enough." ★★★★★ EDINBURGH 49
"Powerful, poetic coming-of-age story that focuses on the relationship between politics and class. Wright's stirring eloquence and resonant delivery heighten the drama and clarify the emotional impact." ★★★★ THE STAGE
"What I Learned From Johnny Bevan is a fantastic debut from a rare poetic talent. At times it feels like a Ken Loach film put to verse. It is a strong and personal story told by an original and absorbing performer." ★★★★ TV BOMB
"On the Road for the Britpop generation … electric." ★★★★ FEST
"This is a completely engaging performance which is delivered with an energy both raw and crisp. Wright really commands the space … The tension and experience created by this one man is admirable." ★★★★★ TODOLIST
"Sometimes funny and sometimes heartbreaking, What I Learned From Johnny Bevan is beautifully plotted and completely engaging, reminding us that politics affects everything." ★★★★ A YOUNGER THEATRE
"Sure to spark at least one mid-life crisis." ★★★★ THREEWEEKS
"An oratory masterpiece & a time-capsule" ★★★★ THE MUMBLE
"Highly recommended." ★★★★★ DARK CHAT
Written & performed by Luke Wright
Directed by Joe Murphy
Produced by Paul Jellis
Music by Ian Catskilkin
Illustrations by Sam Ratcliffe
Lighting by Tom Clutterbuck
Publicity Photos
Credit Michael Shelford. Click on thumbnail for full, 300 dpi image
Production Photos
Credit Guiseppe Cerone. Click on thumbnail for full, 300 dpi image