The Toll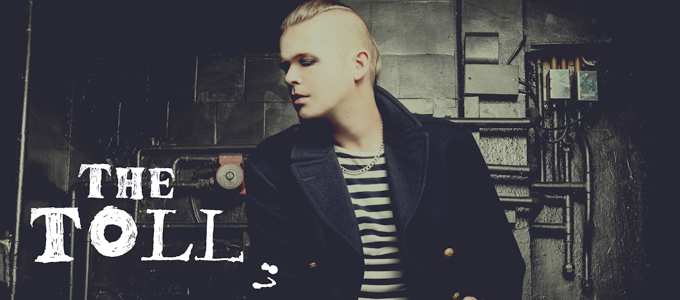 After the Fringe First winning success of What I Learned From Johnny Bevan, Luke Wright is back to subject the English language to a series of degrading new tricks, all for your amusement.
Featuring a selection of poems from The Toll (Penned in the Margins, 2017) this show tours the flat-roofed pubs and half-bought couches of Brexit Britain. It struggles with doubt, duty and a score of half-cut nights spent shouting impotently at Question Time.
Spend an evening with a raconteur at the top of his game, as he spits out visceral, inventive verse that sweats, bleeds and sings.
"Visceral, poignant, and riotously funny." Scotsman
"A rip-roaring raconteur, evoking a Larkin-esque sense of commuter belt ennui" Metro
"Cool poems." Patti Smith
On Tour 2017 (full details on gigs page)
19th Jan The Railway Hotel, Southend
24th Jan Norwich Arts Centre
27th Jan Schaubühne Lindenfels, Leipzig
28th Jan Lettretage, Berlin
3rd Feb The Scottish Story Telling Centre, Edinburgh
15th Feb Jersey Arts Centre
24th Feb The Maypole Cafe, Bar & Theatre, Derby
26th Feb Twisted Words, The Squirrel, Rugby
4th March Landmark Arts Centre, Teddington
10th March The Edge, Manchester
11th March Chesterfield Labour Club
16th March Ventnor Exchange, Isle of Wight
29th March The Half Moon, Putney
8th April The Laugharne Weekender
21st April Cambridge Junction
26th April Bethnal Green Working Mens' Club, London
27th April The North Wall, Oxford
12th May Diss Corn Hall
19th May Brighton Festival, Brighton
21st May Spit & Polish, The Lion & Unicorn Theatre, London
5th June NUJ, London
9th June Stahl Theatre, Oundle
16th June The Lighthouse, Poole
17th June St Nicholas Church, Shrewsbury
21st June Ashcroft Arts Centre, Fareham
29th June Poetry Wivenhoe
30th June Bridport Arts Centre
2nd July Ledbury Poetry Festival
5th July Bradford Literature Festival
29th July The Poetry Stage, Port Eliot Festival
26th July Holt Festival
18th August Edinburgh International Book Festival
1st September Freedom Festival, Hull
8th September Festival No.6
17th September Blake Festival, Bognor Regis
21st September Barbican Theatre, Plymouth
22nd September Tropicana, Weston-super-Mere
23rd September The Theatre Shop, Clevedon
6th October Cheltenham Literature Festival
12th October The Peacock, Sunderland
3rd November Do Not Go Gentle Festival, Swansea
17th November The Exchange, Twickenham
18th November The Wardrobe Theatre, Bristol
22nd November Colchester Arts Centre
23rd November Ffwrnes Theatre, Llanelli
24th November Conservative Club, Merthyr Tydfil
"This is a more grown-up version of Wright's previous shows, without compromising on any of his signature vitality and humour. ★★★★★ Stage Talk Magazine
"He flits so gracefully between farcical and serious, commentary and ridicule that the audience is ever strung along with him, and thoroughly entertained throughout." A Younger Theatre
"The entire show was a marvellous collation of relevance, sentiment and punch, perfectly intertwined with the warm atmosphere to generate a magical evening of literature and laughs. Be prepared to have expectations blown out of the water and find words that will hook in your mind long after you've left; a truthful simple spectacle." ★★★★★ Everything Theatre
"On just the second date of a long tour we enjoyed a sustained and polished performance from a man at the top of his game.  Keep your eyes and ears open – Luke Wright has a lot more to say!" ★★★★★ Norwich Eye
"Wright is a phenomenal poet and performer" The Play's The Thing
"If there is a common theme to Wright's work, then it's his acute observation and compassionate appraisal of ordinary folk, getting by. Luke Wright is opinionated, declamatory and has a curious passion for formal verse composition, but what really marks him out is his humanity." – Diss Corn Hall
"The Toll is a razor dipped in sugar: Although Wright's heart might have taken a battering of late, it is clear that it is still generous, and the caustic line of humour that runs right through it like a black thread, only adds to its character." Norwich Radical